Subscribe to Single Insights: The Science of Solos
This article first appeared here.
Imagine an advertisement that shows a woman taking a pregnancy test. What is her relationship status? If you saw her as 'partnered', your intuitions are similar to the results of a survey in which I asked everyday people to consider the same scenario. Whereas 62% of respondents imagined a partnered woman (eg, married, cohabitating, long-term-relationship), only 7% saw her as single. The remainder thought she was just as likely to be partnered as single.
Whereas advertisers are improving how they represent the diversity of the marketplace, I contend there is a persistent bias that excludes singles in advertising. Yet, single people still buy cars, go on vacation, make dinner, and of course, take pregnancy tests. Thus, businesses can stand out by showing more single people doing things single people do.
The rise of single living
Society too often views single living as a liminal state where singles don't want to be single – and won't be for long. However, it is no longer 1960, where 90% of adults married – and did so on average by age 21.
One-hundred and twenty eight million adults in the US are single. That is nearly half the adult population. The average age of first marriage is approaching 30, and 25% of millennials are projected to never marry in the first place. Moreover, more people than ever are living alone; 28% of US households have one occupant, the most common household ahead of the nuclear families and households with two adults.
Singles are a diverse group, too, including 18-year-old college students, never married elder millennials, single parents, divorced empty nesters, and the world's oldest person on the planet, a 108-year-old former nun. Various marginalized groups – the disabled, African Americans, and the LGBTQIA+ community – are disproportionately single.
The rise of singles is happening around the world. Fifty percent of households in Stockholm contain one person. While this may make sense for individualistic cultures, such as the US and Sweden, the trend is also happening in collectivistic countries. South Korea and Japan are seeing young people choosing to forgo marriage, whereas China and India are home to tens of millions of 'extra' men with dim prospects of finding a wife.
Singles and their goals
Pregnancy tests are a classic case of goal-based segmentation: some women want a positive result and others don't. The latter are disproportionately single. A recent Clearblue pregnancy test commercial, for example, shows a woman wanting a baby ('Please, let this be the time.') juxtaposed against an anxious student in her dorm room receiving opposite results. The former is happy and the latter is relieved.
Singles are not monolithic. My research and conversations with singles reveal their needs, desires, and lifestyles vary greatly from married people, but also within the same demographic. As an example, I have discovered four types singles based on their relationship goals: Somedays, Just Mays, New Ways, and No Ways.
For the Someday singles, 1960 doesn't feel that far away. They are seeking a long-term relationship, and feeling incomplete until 'someday' it happens. Think of them as hopeless romantics who love Jerry McGuire's famous line 'You complete me'.
The remaining three groups are more unconventional in their approach to romantic relationships – and life more generally. They see themselves as a whole person and are not seeking someone to complete them.
I call them 'Solos.'
Just May singles would welcome a traditional long-term romantic relationship, but they don't feel incomplete in the meantime. These 'hopeful romantics' won't feel regret if they are unable to connect with the right person. Jollibee, the fast-food chain in the Philippines (akin to McDonalds), represented a Just May as part of its yearly Valentine's Day series. In 'Status', a young woman fails to find love, but realizes that she has a lot of love in her life – from her family.
A small but growing number of Solos are seeking unconventional relationships, whether casual or long term. However, for New Way singles, the outcome will differ in some notable way from a traditional long-term relationship. Perhaps the person wants casual dating only (eg, 'friends with benefits'), wants something non-monogamous, (eg, open relationship, polyamory), or doesn't want to merge lives with a partner (eg, live apart together).
Singles approach their dating with two potential goals: people seeking love and people seeking lust. Dating apps, such as Hinge, Match, and Coffee Meets Bagel, target the former. OKCupid, on the other hand, targets people with a broader array of goals and orientations. Rather than focusing on 'Finding Your Forever' the app also targets people 'Finding Your For-Now'. Their successful campaign celebrates dating lustfully, even giving the NSFW acronym DTF [Down To F*ck] a cheeky twist (i.e., Down to Floss Together, Down to Furiously Make Out).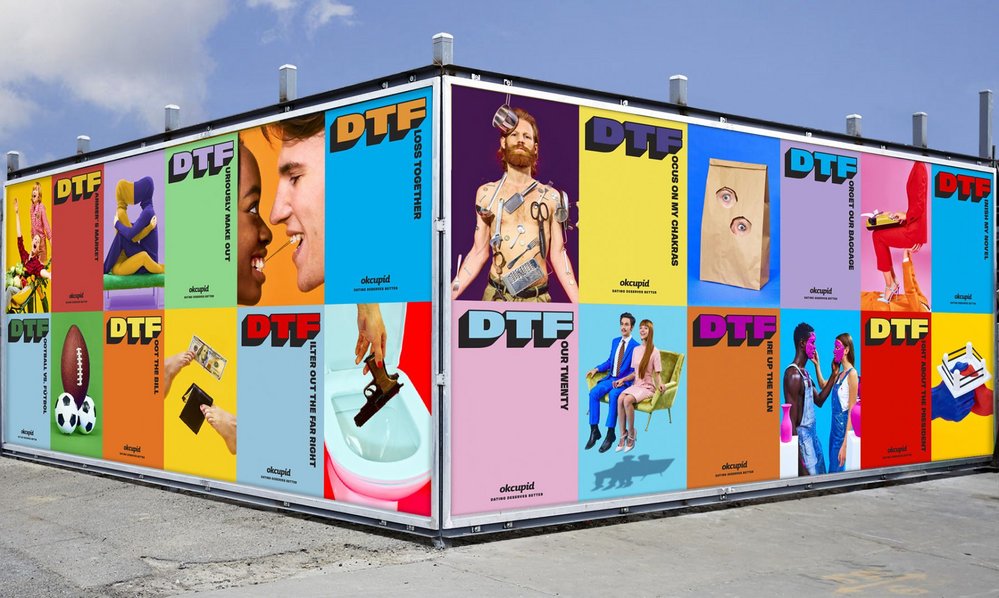 Finally, the No Way singles are a huge market, making up the half of single adults who are not interested in dating or pursuing a relationship. Singles who are not interested in dating are doing so most commonly because they have 'more important priorities right now' or 'just like being single'. These Solos may be taking a temporary or permanent break from dating to build a business, go to grad school, or simply live life.
The British clothing company Bench celebrates a No Way with its 'Nice to Meet Me' Commercial. A single woman spends a night on the town alone, proclaiming, 'Figuring out what I want to do with my life—that excites me.'
Better representing singles in advertising
Thai Life Insurance offers a popular series of 'tear jerker' commercials, one featuring the 'Unsung Hero', a solo working class guy helps people in his community with random acts of kindness. The video has 111 million views on YouTube.
US companies are starting to catch on. The shift is easiest for consumer package goods. Not all laundry is being done for a family, and a lot of cereal is eaten alone. Ethan Decker the President of Applied Brand Science told me, 'Representation matters. It lets under-represented groups know they're valued. Inclusive advertising says, "You're a customer of ours too! And you!" For mass-market brands this should be a no-brainer.'
For example, the campaign accompanying Uncle Ben's rebrand to Ben's Originals features diverse family scenes, including a single mother and her two girls. The campaign also includes an ad with three single 'BFF' roommates who are 'All original recipes.'
Older women are often single due to divorce or death of a spouse. In a Bounty paper towel advertisement, a woman swipes on a dating app as a family member observes. A spilled drink caused by an overaggressive right swipe threatens her tablet (and her match)…until Bounty saves the scene.
Despite the fact that people drive alone 76.4% of the time (and at higher rates for singles), auto advertising tends to show families or groups of friends driving together (having a wonderful time with no traffic in sight). However, there are some signs of change.
Hyundai Tucson's 'lasting relationships' ad, for example, features a single dad and his new dog interspersed with visits and vacations with his kids.
Online auto market Vroom comedically addresses a common complaint of single women, getting good service at a dealership, by showing a woman using a male ventriloquist puppet to get the attention of a salesman ('You have any V8 SUVs bro?'). However, with Vroom, 'You never need to be ignored a dealership again.'
What to do?
In response to the predominance of singles in the marketplace, advertisers can ask the following questions during the design of a campaign:
What is the relationship status of your target customers? Is relationship status relevant to the message?
Are you considering the diversity of single people's lifestyle and goals? How might you show singles not in lockstep towards marriage and kids?
Are you defaulting into a partnered storyline that may not be necessary? While portraying groups in action is visually appealing (eg, family, friends), how might a scene with a single person be made interesting?
The answers to these questions may enhance creative solutions and help single customers feel seen.
—
Dr. Peter McGraw—a behavioral economist, business school professor, and bachelor—hosts the podcast Solo—The Single Person's Guide to a Remarkable Life. His solo clubs on Clubhouse are home to more than 250,000+ members. As the Director of The Humor Research Lab (HuRL) and two-time author (The Humor Code and Shtick to Business), McGraw speaks at Fortune 500 companies, public events, and universities around the world.